Financing
For patients who would like to obtain financing, our staff will help you through the process. The primary finance companies offer 12 months with no interest or finance charges along with the option of extended payment plans 24-60 months with interest rates that vary according to your credit score. You can apply directly through the links below.
GreenSky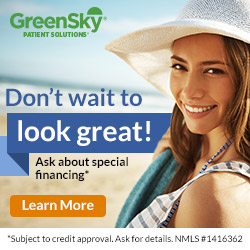 When performed by highly skilled, caring professionals, cosmetic procedures can be costly. However, the benefits to the patient's quality of life are often far beyond monetary value. The problem is, many of the procedures you offer fall outside typical insurance coverage. GreenSky has more plans to meet the financial needs of more patients, including deferred interest if paid in full during the promo period
When patients are ready to take the first step toward a new and better way of life, it's important to be able to make your optimal care plan affordable. GreenSky Patient Solutions® can customize a financing program to meet the specific needs of patients.
---
Alphaeon Credit
YOUR BEST YOU IS CLOSER THAN YOU THINK
With the ALPHAEON CREDIT card, you'll find the widest array of monthly payment options to help your reach your individual wellness, beauty, and performance goals.
The ALPHAEON CREDIT card allows you to move forward today without delay. Plus, with special financing options not available with other credit cards, you may find the ALPHAEON CREDIT card is the better way to pay.
With the ALPHAEON CREDIT card, you can receive the care your physician recommends with flexible payment options that fit your lifestyle.
Apply today so you can focus on looking, feeling, and being your best.
---
Care Credit
It's something you've always wanted to do, but something else was always there to hold you back. Well, not anymore. We offer CareCredit®, a card designed specifically for your health and beauty needs. CareCredit® can help you move forward with getting the procedure you've always wanted. With convenient monthly payment options, no up-front costs and no prepayment penalties you can get your procedure sooner. The credit card exclusively for your health and beauty needs.
CareCredit® is the credit card exclusively for healthcare services. With low monthly payments every time you use it, you can use your card over and over for follow-up appointments or different procedures. This means you don't have to put your health and beauty needs on hold until you save up enough money. We give you the power to decide when it's the right time for you.
With CareCredit®, you can:
Enjoy low minimum monthly payments
Pay no up-front costs or pre-payment penalties
---
Prosper Healthcare Lending
Prosper Healthcare Lending is the premier financing company in the healthcare industry. With over $3 Billion borrowed and over 250,000 people empowered, this is a name and a program you can trust.
Here are some of the benefits you'll receive with a loan from Prosper Healthcare Lending:
Immediate decisions for loans under $35,000
Longer terms for lower monthly payments
No collateral required
No prepayment penalties
Fast & easy loan inquiry process
100% Confidential